Many businesses utilising Microsoft Teams for internal collaboration can now benefit from the ability to make and receive calls by enabling Teams as a full cloud-based UC solution with enterprise grade telephony.

Give your Teams a voice with confidence – benefit from a highly reliable, resilient architecture with Direct Routing from the UK's No.1 SIP Trunking provider with simple provisioning, enhanced call control features and carrier grade infrastructure.

All provided at a competitive price, as a complete cloud solution.

Cost saving
Significant cost saving per user when compared to Microsoft's calling plans (allows you to maximise existing 365 license cost).

Complete Cloud Solution
Cloud-based solution with no expensive initial outlay as there's no need for traditional hardware.

Never miss a call
Tailored business continuity with network and number level resilience to keep your business working.

Access to Education Community
Using "Janet Connected" accreditation connections means that we can provide IP voice services to the education community in a direct manner.

Agile working
Allows for flexible and remote working and enables a collaborative approach.

Access to advanced call statistics
Online access to comprehensive call statistics enables informed business decisions. Advanced management information relating to call handling efficiencies, productivity, call patterns and caller behaviour. Data includes time to answer, call waiting time, call outcome and caller details statistics.

01, 02, 03 and 08 number termination
01, 02, 03 and 08 termination with no number translation. *Natively terminates on the endpoint but termination charges would still apply for 08 numbers only.

Number porting
Keep the same geographical number wherever you are.
So, why go with Gamma?

While Teams is integrated into most Microsoft business licences as an internal collaboration platform, enabling external calls requires additional costs, including Microsoft Phone System licence and minute bundles. Microsoft Calling Plans and Direct Routing differentiate in terms of cost-effectiveness, number of suppliers, and flexibility of bundles, making Direct Routing by Gamma the preferred option.
Redefine your Workstation
Add a Yealink Workstation to your Teams deployment. Certified for Microsoft Teams, with Premium microphone for Open Office and a dedicated Teams button to activate Teams by one touch, creating the most seamless Teams experience.
Featuring Yealink's Acoustic Shield Technology, with a two-microphone noise canceling and voice transmitting.
Ringer for call reminder.
All-in-one design, combining a full-duplex speakerphone, USB hub, wireless charging stand (Optional) and a 4-inch console together with built-in Bluetooth allowing you to connect, manage and control devices and calls, providing more possibilities and convenience for collaboration.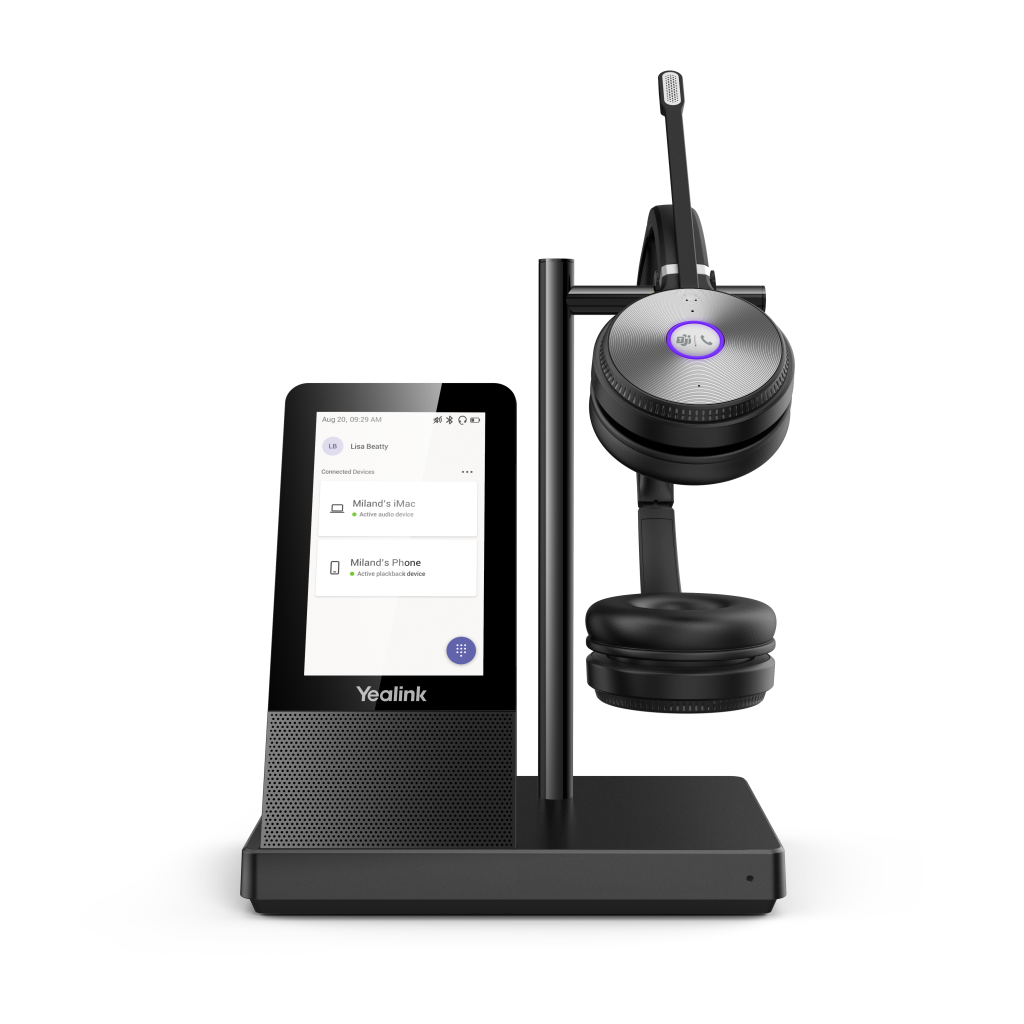 Please contact us for more information.