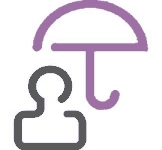 A robust backup and disaster recover (DR) plan to crucial to the survival of a business should the worst happen. We offer a full DR service, from planning & implementation to testing and ongoing refinement.
We offer two main levels of backup software:
Backup to cloud or removable media
Azure Disaster Recovery
As an add-on, the Office 365 Backup service can be included to instantly recover emails, contacts, calendars, attachments and tasks.
Backup to Cloud or removable media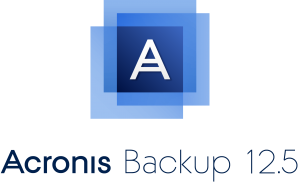 For single-server and small sites, we offer a monitored backup to removable USB Drive or to secure cloud storage. Acronis Backup 12.5 is the world's easiest and fastest backup solution for all your data, whether it is located on-premises, in remote systems, in private and public clouds, or on mobile devices.
Reduce RTOs of individual systems and speed up granular recoveries with support for any local and network-based disk storage, eliminating the need to establish backup or media servers.
Increase the resilience of your infrastructure by backing up your ESXi and Hyper-V hosts and restoring the entire system (not just VMs) to the same or dissimilar hardware, avoiding the need to reconfigure your hypervisor systems.
Improve security of your backups and metadata with at-source AES-256 encryption and irreversibly encrypted passwords.
Azure Disaster Recovery
Protect your environment by automating the replication of the virtual machines, based on policies that you set and control. Azure Site Recovery can protect Microsoft Hyper-V, VMware and physical servers, and you can use Azure or your secondary data centre as your recovery site. Site Recovery coordinates and manages the ongoing replication of data by integrating with existing technologies, including System Center and Microsoft SQL Server AlwaysOn.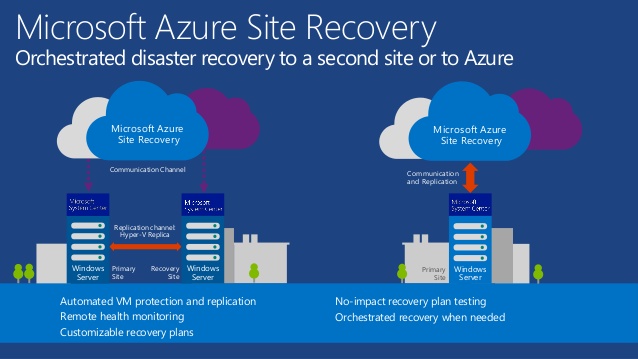 Applications can be brought up in an orchestrated fashion to help restore service quickly, even for complex multi-tier workloads. Easily create disaster recovery plans in the Microsoft Azure classic portal, where they are stored. The disaster recovery plans can be as simple or advanced as your business requirements demand
All communication with Azure is encrypted. When replicating to Azure as the secondary site, your data is encrypted, and you can also select encryption for data at rest.
Please contact us for more information.