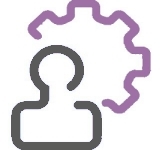 The days of being confined to a desktop or a laptop are behind us. The advent of smart phones and tablets means another endpoint to secure, not only from data loss but from unauthorised applications and purchases.
Mobile Device Management is the equivalent to Antivirus protection for PCs. It ensure's that:
Security policies are adhered to – such as encryption, password enforcement and auto-erasing
controls what applications can and cannot be used – such as games, iTunes store and the camera
what age-restricted content can be viewed from iTunes.
It also goes further by provisioning devices with:
WiFi and VPN connections
Applications (included paid Apps via Apple's Volume Purchasing Program)
Backup settings
Shared Documents
Once a device is deployed it can be used to track lost of stolen devices and to issue a remote wipe.
We offer a range of mobile device options, by themselves, or in conjunction with other services – such as Office 365.
Please note that not all functions are supported on all devices.
Please contact us for more information.